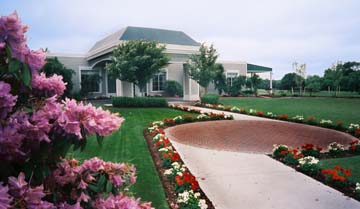 The Alpine Tour
History of Alpine
Alpine Presidents
Member Events
-----4th of July
-----Adults Halloween Party
-----Children's Halloween Party
-----Holiday Ball
-----Presidents Ball
-----Easter
-----Palm Sunday
-----Mothers Day
-----Summertime Poolside Fun

The Alpine Country Club
Since its founding, more than forty years ago, Alpine Country Club has continued to grow in popularity and prestige. Thanks to the dedication and foresight of its founders and members, the richly-appointed club house and championship golf course are in pristine condition. This year alone saw the addition of four new tees adding 261 yards to the course's length, and the 16th hole now has an extended water hazard up the left side. Even our Pro Shop has been completely renovated.

Alpine's spacious club house offers a variety of rooms for entertaining, whether a romantic dinner or anniversary party, a golf tournament or wedding. In addition, families will enjoy the Olympic-size swimming pool, children's wading pool and snack bar.

As a family-oriented country club, Alpine hosts special events throughout the year for members and their families, particularly during the holidays. Over the years, each has become part of the Alpine tradition.